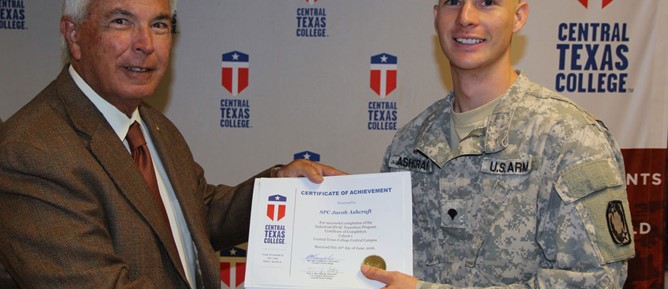 Central Texas College hosted an achievement ceremony today at its Fort Hood campus to recognize transitioning Soldiers who completed the Heating Ventilating and Air Conditioning Cohort I class. 
Seven Soldiers were presented certificates of achievement from Jim Yeonopolus, CTC chancellor, during the ceremony. Guest speakers were Master Sgt. Adrian Thompson, acting Garrison Sgt. Major, and Mike Glowka, service manager – Direct Energy.
The HVAC program is the newest in a series of transitional opportunities for qualified soldiers offered by CTC through the Veterans Opportunities to Work Act.
CTC partnered with AirTron Heating and Air Conditioning – a Direct Energy Company and One Hour Air Conditioning and Heating. During the eight-week program, students completed five non-credit courses and achieved EPA certification.