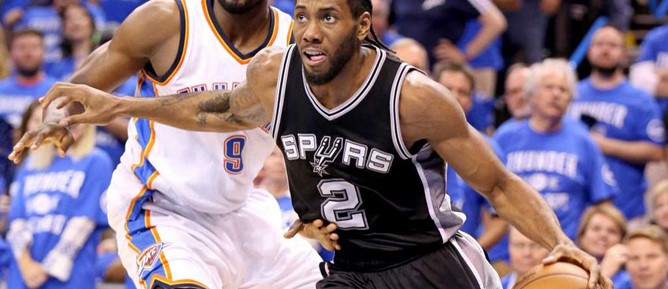 Spurs forward Kawhi Leonard will join a number of American basketball stars in opting to stay home for the 2016 Summer Olympics, sources confirmed to the Express-News.
Citing the birth of his first child, due in July, Leonard has declined an invitation to join Team USA's 12-man roster in Rio.
"This was a difficult decision," Leonard said in a statement. "It's an honor to have been considered for the team and I hope that in the future I will have the chance to represent my country by playing for USA Basketball."
Along with Leonard, Stephen Curry, Chris Paul, Blake Griffin, Anthony Davis, James Harden, Russell Westbrook, John Wall, Andre Drummond, Damian Lillard, and Spurs teammate LaMarcus Aldridge have all withdrawn their names from consideration for reasons of rest and recovery.
NBA Finals MVP LeBron James is also said to be leaning toward sitting the Olympics out following a grueling championship run with the Cleveland Cavaliers.