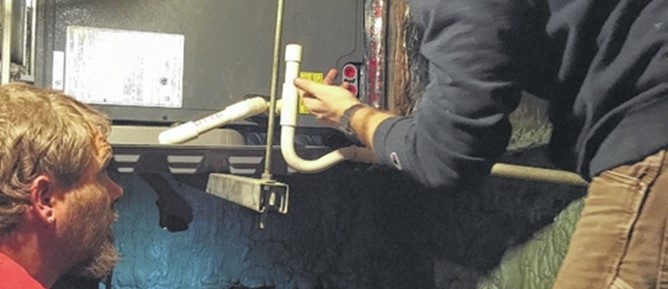 MOUNT AIRY — Surry Community College students enrolled in Air Conditioning, Heating, and Refrigeration Technology courses, also known as HVAC, recently provided the Disabled American Veterans (DAV) group located at Veterans Memorial Park in Mount Airy with services learned through their studies.
Friendly Heating and Cooling, Inc. and SCC's Lead Heating, Ventilation, and Air Conditioning Instructor Stephen Hammond oversaw the about 10-hour project including instructional time and hands-on experience for each student.
DAV contacted Hammond due to problems with its current HVAC unit. While providing DAV with a service, students gained beneficial experience. Students performed what is referred to as a change out in the HVAC industry meaning they went through all the steps of diagnosing a failed system, properly removing an old unit, and reinstalling a new unit while adhering to current code regulations. The project covered lessons from the following SCC courses: AHR 112 Heating Technology, AHR 114 Heat PumpTechnology, and AHR 213 HVACR Building Codes.